At Pilgrim we care that you get the right solution that lasts you the life cycle of your asset. Whether its an unplanned outage at a Combined Cycle Power Station, a planned maintenance schedule a ship's dry dock or a coupling inspection at a Steel Mill, we ensu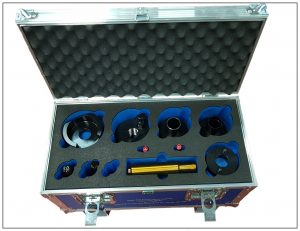 re that your installation equipment is ready to use by providing the latest packaging that protects your installation equipment (Bolt Tensioning Kit).
Our new bespoke bolt tensioning kits boxes are designed to be lightweight, portable and rugged for ease of use and to survive the intended environment.
As standard, each box comes with the possibility to add your identification details, such as the Power Plant name and specific Turbine coupling for ease of identification. Just let us know what is needed at order placement stage and we will make it happen.
The interior has been improved with the use of engineered foam filling with CNC routed pockets, which are profiled for each component to keep them compact and safe in storage / transportation. Each pocket is coloured blue for easy visual identification of any missing tools, thus helping to reduce the loss of some items when packing away.
And finally all these upgrades are completely free to you as this new packaging comes as standard.