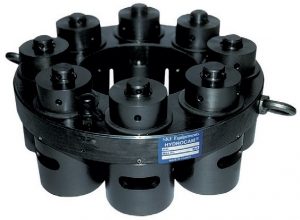 MAN Energy Solutions SE's French subsidiary employs circa 630 people across the production site and head office of Saint-Nazaire and its Puteaux site. MAN Energy Solutions France produces engines for Marine, Military Marine, Offshore, Power Plant and Nuclear Power Plant applications.
MAN ES designed in several access covers on their Type 48/ 60 engines for maintenance, in locations such as the crankshaft bearings, connecting rods and counter balance weights. Each of these positions require a high integrity joint for safety and performance. MAN required bolt tensioning tools that would homogeneously tension several bolts to an accurate and repeatable retained load, while easy to use for the end user maintenance team.
Solution
PILGRIM have designed several bespoke HYDROCAM© "multi tensioner" units to each application of the diesel engine.
HTA -100 M52x4 quad & oct plate mounted multi tensioner units.
Morpress hydraulic pump range GHP air driven & hand pumps.
Associated hydraulic accessories.
Benefits
Quick and easy to use plate mounted multi-tensioners with a homogeneous design.
Safe
High retained load in bolt
Excellent ratio between tool size and tensioner performance.