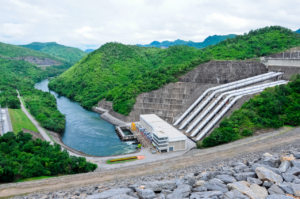 Larone Power Plant in Indonesia started operations in 1979, consists of three turbines with continuous power capacity of 165 megawatts.
Canadian company ACRES was invited to support improve the plant. Having had experience of specifying Pilgrims Radial Fit bolts at McCormack in Quebec they had no hesitation to contact PILGRIM. The issue to solve was that there was restricted access to one side of the coupling, making the installation of the Radial Fit Bolt difficult. ACRES had previous experience of using the predecessor to the Radial fit Bolt called the MorGrip Bolt on another Canadian HYDRO Power plant at Inco, Sudbury, Ontario. The MorGrip Bolts provide generally the same benefits as the Radial Fit Bolts.
Solution
PILGRIM selected its Radial Fit Bolts to solve the problem. The principle of the bolt is of a taper shank bolt drawn into a matching taper sleeve with parallel outer diameter which expands fractionally to produce a perfect interference condition in to the bolt hole. This condition, which "conventional" fitted bolts do not achieve, eliminates movement between mating components. Also with the expansion of the sleeve], exact flange alignment and concentricity is achieved. Axial clamp load is then created by a hydraulic puller. Once the puller draws the tapered bolt into its sleeve it is then used to tension the bolt once the nuts are fitted.
Benefits
Retrofittable solution
Re-usable solution
No fretting
Elimination of seized bolts
Easy to install and remove.