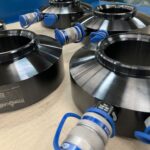 At the time of opening in July 2000, the Øresund Bridge was the longest combined road and rail bridge in Europe at 7,845 metres and connects the countries of Denmark and Sweden.
The cable anchor, which clamps the huge steel wire cables of the bridge needed bolting together and given the safety criticality of the application tensioning was the chosen method, ensuring the essential retained loads were maintained in the bolting.
Each cable anchor block had 20 studs that needed tightening simultaneously and in a controlled manner to ensure a high integrity joint.
Solution

Bespoke designed bolt tensioners based upon the standard HTA 90 tensioner.
Spherical seating face to allow for self alignment.
Daisey chained design for Homogenous tensioning
Customer Benefits
Light and compact
Application specific designed bolt tensioner for optimise performance
Homogenous tensioning of 20 tensioners.
Ease to loosen and re-tighten