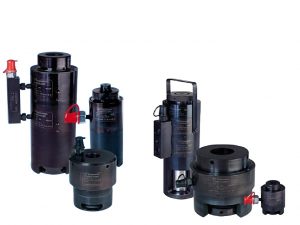 SKF has worked with a leading firm of naval architects and offshore engineers who design and provide consultancy solutions specialising in the design and manufacture of offshore mooring systems, predominantly within the oil & gas sector.
A CALM buoy is a floating buoy which is attached to the sea bed by chains and fully anchored by Piles or anchors to the sea bed. The top section of the CALM Buoy is able to connect to Tanker vessels which are able to freely rotate around the application where it can offload its cargo unlike a full mooring along dockside. SKF helped in the design of a 20m dia. CALM Buoy Mooring System where the slewing bearing was concerned. It's been designed to withstand 11m wave heights, which can be experienced in Monsoonal season. This system incorporates large size Slew Bearings, allowing the two halves of the CALM Buoy to rotate.
In December 2019 PILGRIM INTERNATIONAL initiated discussions with SKF to specify a suitable bolt tensioning system and tightening method, with the aim of aiding the installation and removal and long term performance of a bespoke set of large size slewing bearings.
Solution
After technical discussions between PILGRIM and SKF a proposed 2 sets of four HTCR73 M42 x 4.5 HYDROCAM® tensioners were defined, to allow a tightening pattern whereby the bolts could be homogenously tightened at 90°to one another. Thus ensuring an even tightening meaning the slewing bearing wouldn't distort and thus improving the performance of the bearing in operation.
To ensure a smooth use of the tooling, PILGRIM also provided a Mk12 MorPress  air driven hydraulic pump along with five high pressure hoses and the necessary hydraulic fittings for simultaneous tensioning on each of the tensioners
2 sets of the following:
4 x HTCR 73 M42 X 4.5 HYDROCAM® TENSIONERS
Pilgrim GHP Morpress Pack
5 x High Pressure Hoses and Distribution Block
Benefits
Homogenous tightening ensuring rotational performance and longevity of the slewing bearings
Removal of uncertainty for secure and predictable tightening
Safe operation resulting in a quick install and removal