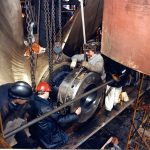 BABCOCK Devonport and PILGRIM INTERNATIONAL LTD have a long supply relationship supplying Bolting and Drive up systems supporting THE ROYAL NAVY's surface ships fleet.
HMS Portland a Type 23 'Duke'-class frigate, which is based at HMNB Devonport in Plymouth and was launched 15 May 1999 was scheduled for maintenance work in June 2019.
Upon inspection the propeller nut, which holds the propeller on the ship looked rather worse for wear after a years submerged in service. It was unclear for BABCOCK if the nut could be reused. It was at this point that BABCOCK contacted PILGRIM for support to assess the PN5 nut, which was  originally supplied by PILGRIM.
Solution
On receipt at PILGRIM's UK manufacturing unit the PN5 nut was cleaned and inspection, which included none destructive test (MPI) & full measurements reports
After a report back BABCOCK instructed PILGRIM to fully refurbish the nut, which comprises of: Strip down and clean, fit new tyre and fittings, change for new the custom fitting and adaptor, dress any damage to surfaces test and finally hydraulically function test and repack and re-certify as good.
Benefits
Cost effective solution.
Timely turn around
A new warranty based upon full refurbishment.
Legacy product support