MK10 MORPRESS AIR DRIVEN PUMP
Lightweight efficient, compact and easy to operate, the MK10 Morpress Air Driven Pump provides instant and totally reliable hydraulic power.
The pump utilises a low pressure air supply to generate a high pressure output.  This is achieved by means of a simple differential area system in which a large area air piston at low pressure produces high pressure on a small hydraulic piston.
Simple air controls enables the MK10 Morpress pump to provide any intermediate pressure required within the limits of the pump output range. (see table below for details of  our standard range)
Both oil and air are filtered prior to entering the system. The MK10 Morpress pump requires only two connections, one to the air supply, the other to the hydraulic output.  Simple and safe quick connect couplings and high pressure flexible hoses are used to connect the equipment being used.
The standard MK10 Morpress Air Driven Pump comprises of:
Air pressure regulator
Air pressure gauge
Air filter
Air lubricator
On/off control valve
Oil reservoir
Air/Oil intensifier unit
Oil return to tank valve
Pressure relief safety valve
Oil filled pressure gauge with damping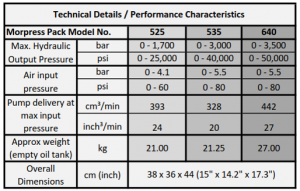 The Morpress pump can be built to your specification.  Lower or higher pressure models, special outlet arrangements and customised gauges can all be accommodated.  Just let us know your exact requirements.