Customised for your specific application, the Pilgrim Bolt Tensioning Kit (BTK) can be supplied in different configurations to meet the specific needs of the customer.
Each kit supplied is composed of all the required tools for a complete RadialFit Bolt or ClampBolt installation and removal. The Bolt Tensioning Kit is designed for easy operation to allow installation of a single bolt or a simultaneous installation using a dual Bolt Tensioning Kit.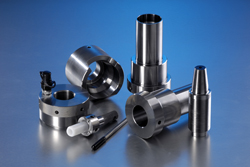 The dual Bolt Tensioning Kit enables two bolt assemblies to be pressurised simultaneously, reducing the maintenance downtime during major or minor shutdowns. The hydraulic heads supplied as part of the Bolt Tensioning Kit, meet the requirements of the European Pressure Equipment Directive and are CE marked, providing further confidence that the Pilgrim product meets the required International safety standards.
For Bolt Tensioning Kit Tool box : Please follow this link to get more details
Pilgrim also offer a service to have your existing bolt tensioning kits refurbished to ensure your maintenance schedule goes to plan.
For Spares and Bolt Tensioning Kit Refurbishment: Please follow this link to make an enquiry