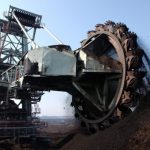 Minerals are a major component of the Industrialized World's economy and optimizing mining processes is critical, especially as it becomes more difficult to extract the necessary minerals. There are huge amounts of large equipment in mining that are designed for tough applications and maintenance is becoming more important to ensure reduced down-time.
Pilgrim have gained a great knowledge of the Mining and Minerals Sector over many years of providing Controlled Fastening and Tensioning Tools designed to ensure safe and quick installations that can be relied on. The emphasis on reliable and safe solutions become critical and at Pilgrim our passion is to remove uncertainty by designing clever and high quality solutions to ensure our clients reduce the Total Cost of Ownership of key assets.
Typical Applications
Slewing Bearings.
Large Covers.
Joints
Cutter heads
What we do
Reusable High Integrity Bolting Solutions.
Tensioning Solutions for quick and reliable fastening.
Jacking Tools for quick and safe installations.
Hydraulic Power packs designed specifically to ensure easy operation on site.
Pilgrim have a comprehensive Product Range to help.