Pilgrim provide a complete range of technical and training services, which include:
On- site Technicians & Supervision
Training programmes
In Situ Line Boring
Kit Refurbishment (Tensioning kits, Pumps, Drive-Up and Bolting Systems)
Comprehensive instruction manuals (available on-line or by post)
Spares: whether its sleeves for one of our bolting systems or replacement parts for your Bolt Tensioning Kit, Pilgrim can supply from stock or via our FastTrack delivery service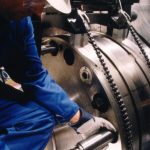 Insitu Machining: Include on-site installation  support, in-situ line boring from parallel task operation to simultaneous multiple coupling machining to minimise or even eliminate critical path impact. Our coupling services include: Coupling line boring, Technical supervision, Flange face repairs and machining, Drilling out of seized conventional bolts, Sleeve machining, Installation of Radial Fit Bolts and On-site training.
Training: whether its in preparation for an outage in a power plant or maintenence operator refresher training Pilgrim can provide class room training conducted by our qualified engineers. These services are offered to provide assistance, guidance and training to owners and operators on the installation and removal techniques of Pilgrim's Bolting and Positioning, Tensioning and Drive-Up Systems. Pilgrim's ABACUS table top training aid is also available to buy or rent, which allows for class room practical for bolt install and removal.
To ensure smooth and continuous operation of essential equipment, Pilgrim recommend and undertake in-house refurbishment of all tooling including complete bolt tensioning kits, hydraulic heads and air operated pump units.